Nurture your body and spirit on the fabulous island of Oahu!
There is a mystical quality about Hawaii that enhances the healing and well-being of all who visit. Gentle trade winds cool our skin, the fragrance of plumeria blossoms welcomes us, the moist air caresses us, and the grandeur of the mountains and clear blue water fill us with awe and joy.
You're invited to a week-long wellness retreat in Kailua, hosted by Nancy Nixon, LCSW. This journey can be profoundly restorative to the intentional seeker who views the wellness journey as a movement toward balance and harmony on all levels of our being — the mind, heart, body and spirit.
Within the framework of a small, supportive women's group, you'll have the opportunity to:
Reevaluate how you nurture your spirit and determine what is meaningful in your life
Explore new ways to bring balance and harmony to your mind, heart, body and spirit
Connect with the natural world to gain higher levels of spiritual and emotional awareness
Swim with dolphins, kayak, snorkel, and hike
Relax on the beach
Enjoy beautiful accommodations and gourmet meals in a private home in Kailua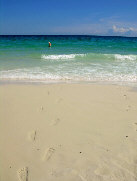 Kailua is on the windward side of Oahu, where you'll find some of the best beaches in the world, including famous Lanikai Beach.
You'll be amazed at the stunning turquoise waters lapping gently against white powdery sand.
It's truly heavenly and a balm for your mind, body and spirit.

Every morning our women's group will gather for a two-hour group meeting to explore the ways we nurture our spirits.
We will investigate how we nurture ourselves in our relationships, families, our professional environments, and through our spare time.

We will learn new ways to nurture that part of us that fuels our ability to ascertain what is meaningful in our lives. In the afternoons, we will discover "nature as a healing force." There is no better place than Hawaii to immerse oneself in the healing power of nature.
For some participants, lying on the beach, catching up on sleep or just having quiet time might be how they want to spend free time. For others, we have many planned activities that make use of the Hawaii's environment to nurture our spirits.









Every afternoon there will be an activity that involves intentional and meaningful contact with the natural world to promote greater levels of spiritual and emotional awareness.

We will swim with the dolphins, kayak, hike, snorkel, visit the Valley of the Temples...

Or, if one prefers, lie on the beach and bask in the surrounding beauty.

We have lots of activities planned to nurture your body and spirit.

The retreat will be headquartered in a large home in Kailua on the Windward side of Oahu.
Eating is an important event in Hawaii. The Hawaiian people love to eat and we will not neglect this part of journey!
Our meals will be prepared by Lynn Henry. She is a nurse in Portland, Oregon, and for a hobby, she is a gourmet cook. Lynn will nurture us with lovingly prepared food.
Breakfast and lunch and five of our dinners will be prepared by Lynn. We will all gather around the table in the evenings and discuss our experiences of the day.
On our evening's out, one night we will go to Buzz's Steak and Fish House and another evening to a "Royal Celebration" at The Royal Hawaiian Hotel.




The Royal Hawaiian Hotel, located on the other side of the island in Waikiki, is one of the oldest hotels in the islands.

The grounds of the hotel are lovely. The celebration is a feast of food, mele (song) and hula. It takes place in a grassy area next to the ocean with Diamond Head as a back-drop.

During the celebration you will be able to see ancient Hawaiian arts demonstrated, eat great food, and watch a Hawaiian performance by local artists.
Join us for 7 fun-filled days in Hawaii! To reserve your spot, call Nancy Nixon at 503.224.9242 or send an email to NCNixon@aol.com. We look forward to meeting you!