Below is a sample schedule of one of our retreats.
Content can be changed to meet the needs and goals of the group.
Friday Afternoon & Evening 4 – 6 p.m.

Arrive at McKenzie Riverside Inn
Time to settle in and unwind

6 – 8 p.m.
Cocktails & Dinner
In our private living room and dining room
8 – 10 p.m.
Group Meeting
Getting Acquainted – Telling Our Stories
Saturday
8:30 – 9:30 a.m.
Breakfast

10 – Noon
Group Meeting
Creating Nurturing and Healthy Space in Our Lives
With our busy lives we often forget to spend our time creating ways in which we connect to our center and honor our mind, body and spirit. During this morning meeting we will explore where we currently find fulfillment in our lives. What needs to change? What is blocking us? What new tools can we use that will help us lead more fulfilling lives?
We'll take time to answer these questions and investigate tools for creating healthy spaces in our lives. We'll touch on the topics of journaling, using nature as a healing force, the use of rituals in our everyday lives, meditation, and creating sacred space in our homes to nurture our spirits.
Noon – 4 p.m.
Lunch and Leisure Time of Your Choice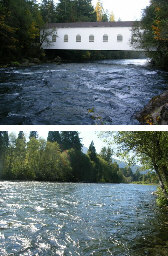 Leisure time includes a chance to visit Belknap Hot Springs, a 10-mile drive from our retreat headquarters. Belknap has a large outdoor pool filled with hot mineral spring water.
Many believe that the waters at Belknap are healing for whatever ails you. Belknap also has beautiful gardens that are a delight to visit and nurturing to the spirit.
You can also spend the afternoon investigating the trails around the Inn and the McKenzie River, rafting (depending on the season), reading a good book on the deck overlooking the river, or taking a nap!
4 p.m. – 6 p.m.
Group Meeting
Introduction to Energy Work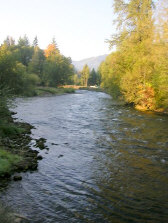 Our bodies are composed of energy meridians and chakra centers, which are often overlooked in healing and caring for ourselves. We will explore this exciting area during this session. Although the awareness of this area of our bodies may seem new, the knowledge that energy runs through our meridian pathways and chakra centers has been known for ages. Eastern medicine, yoga, acupuncture and acupressure are based on this wisdom.
Nancy will show us how to access this energy source in easy, practical and useful exercises to support and enhance our energy that will help to prevent illness and burnout and keep us moving with renewed energy.
Saturday Evening
6 – 8 p.m.
Cocktails & Dinner
8 – 10 p.m.
Intuition
Have you ever had a "gut feeling" that you ignored, and you went on to make a decision or choice you later regretted?
We will look at this very important topic during this after-dinner session. Learning to trust our intuition can help us lead more authentic and meaningful lives. Trusting our intuition takes connecting with our center, quieting the mind, and tuning in to the wisdom that is uniquely ours. We will look at ways in which we can tune into our intuition and examine obstacles that get in our way of trusting this important force.
Sunday
8:30 – 9:30 a.m.
Breakfast
10 – 12 Noon
Closing Ritual and Lunch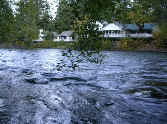 To close, we will recap the weekend and our experiences together. This will be a time for honoring ourselves and one another. We will have a closing ritual and light lunch before we pack up and leave for our journey home.