Imagine a weekend just for you, a weekend where you have time to explore what you are doing with your life. A time to look at any roadblocks that are keeping you from being who you are meant to be, and an opportunity to learn new tools to help you find your true path in life.
A blissful two days enjoying the company of other women, meeting in a supportive group environment, eating gourmet food, relaxing in a majestic setting and having the kind of fun generated by women spending time together.
Our weekend retreat will be held at the McKenzie River, located about an hour east of Eugene, Oregon. The McKenzie flows through some of the most beautiful country that Oregon has to offer. This area exemplifies the rugged, lush, peaceful, majestic beauty of the Pacific Northwest. The McKenzie is a classic semi-rainforest river that is cloaked in fir and hemlock and runs blue-green as it tumbles past our retreat headquarters.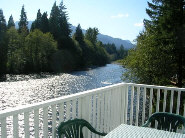 Our group (6 to 10 women) will stay in a recently refurnished old inn that sits on the banks right above this magnificent river. Many of the eight bedrooms open onto balconies that hang over the rushing water below.

Enhancing our quiet and privacy, our group will be the only occupants of the inn.
We will eat gourmet meals prepared by our own chef, Lynn Henry. Lynn loves to cook, and our meals will be a reflection of her passion! In planning your weekend, donít forget to bring your appetite as you will be indulged all weekend long with good food and wine.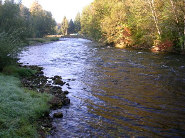 Belknap Hot Springs is 10 miles from our retreat headquarters at the McKenzie Riverside Inn. During the weekend we will spend time at the Belknap hot springs pool and beautiful gardens. The gardens are wonderful for a silent walking meditation or simply enjoying the tranquility and beauty of the area.
Depending on the time of year, the McKenzie River area offers hiking, fishing, kayaking, white water rafting and, most important, a quiet place for reflection and relaxation.

If you are interested in an Oregon Retreat please email Nancy at ncnixon@aol.com.

Learn more about our weekend activities